The port city of Bilbao, Spain, was the host location for this years Impact Conference hosted by the ENLIGHT European University Alliance. Meeting at the University of the Basque Country, participants enjoyed a diverse program on 30 and 31 March 2023. E³UDRES² lead coordinator Hannes Raffaseder was present at the event, taking the opportunity to discuss the topics of impact and engagement with other higher education professionals.
Creating an impact in higher education is one of the core aims of all European University Alliances. The ENLIGHT Alliance now dedicated an event to exactly this purpose: With the ENLIGHT Impact Conference, the network hosted a space for leading impact experts in – and outside the academic ecosystem to exchange and discuss approaches for embedding impact within universities' full spectrum of activities. Among others, the event discussed the themes of raising impact awareness, approaches for impact assessment, impact-driven research agendas, and understanding how European Universities Alliances are bringing about impact and transforming the European Education Area and European Research Area.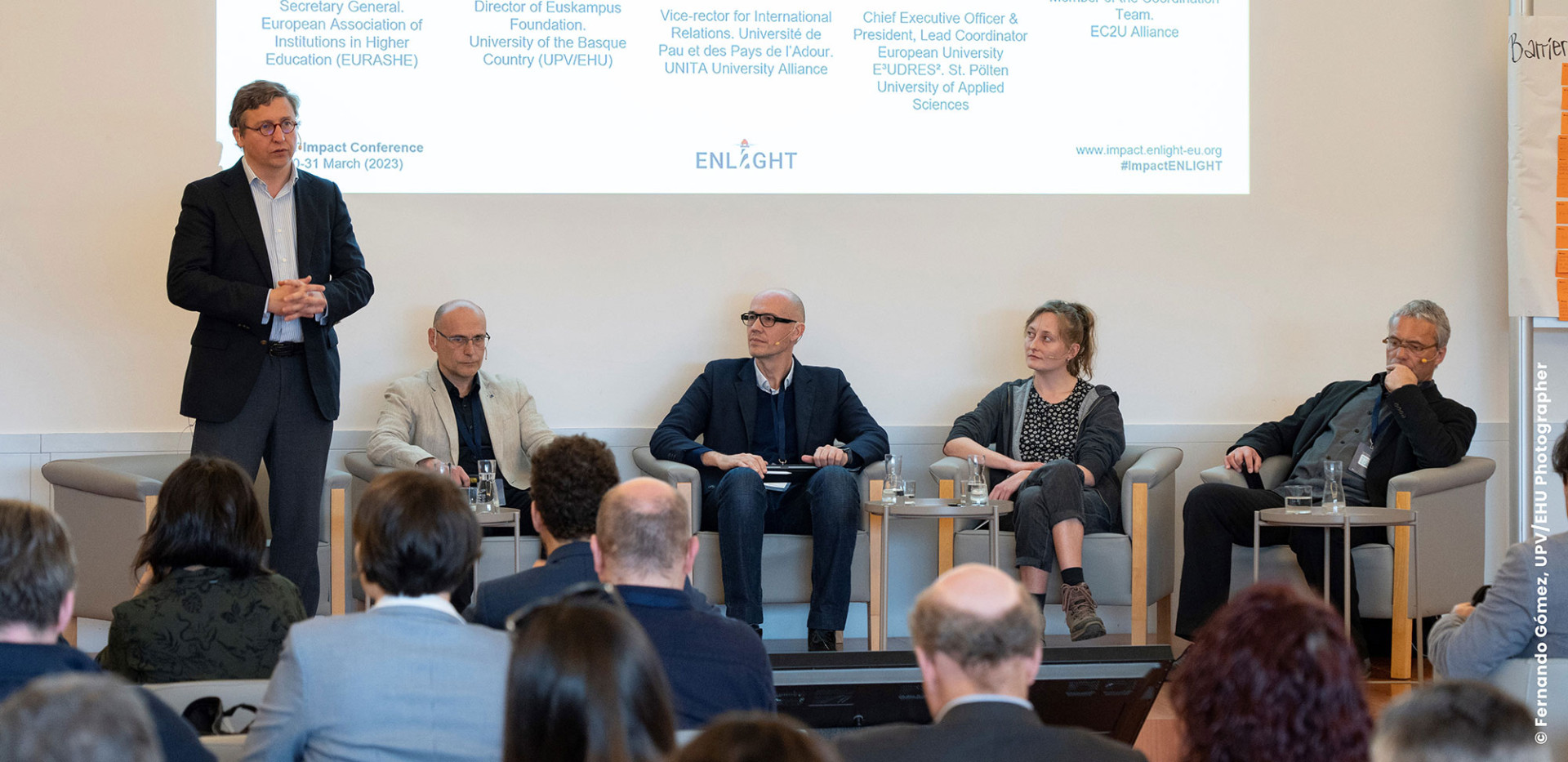 Panel host John Edwards (EURASHE) discussing with Igor Campillo (UPV/EHU), Ernesto Exposito (UNITA), Heather Hunt (EC2U) and Hannes Raffaseder.
transforming the European Higher Education Area
The question of "How university alliances are bringing about impact and transforming the European Higher Education Area & European Research Area" was in the spotlight in a panel discussion hosted on day two of the event. The panel moderated by EURASHE secretary general John Edwards brought together various professionals in the field of higher education: Hannes Raffaseder was joined by Igor Campillo (UPV/EHU), Ernesto Exposito (UNITA), and Heather Hunt (EC2U), who all brought valuable and interesting viewpoints to the discussion. With the conference being over, the participants left with a deepened sense of how meaningful impact in higher education can be achieved.
ENLIGHT is a European University Alliance with membering institutions from Belgium, Estonia, France, Germany, Ireland, Netherlands, Slovakia, Spain and Sweden that aims to promote equitable quality of life, sustainability and global engagement through Higher Education transformation.